Call for Entries to the First Tianjin in the Eyes of Friendly Foreigners Photo Contest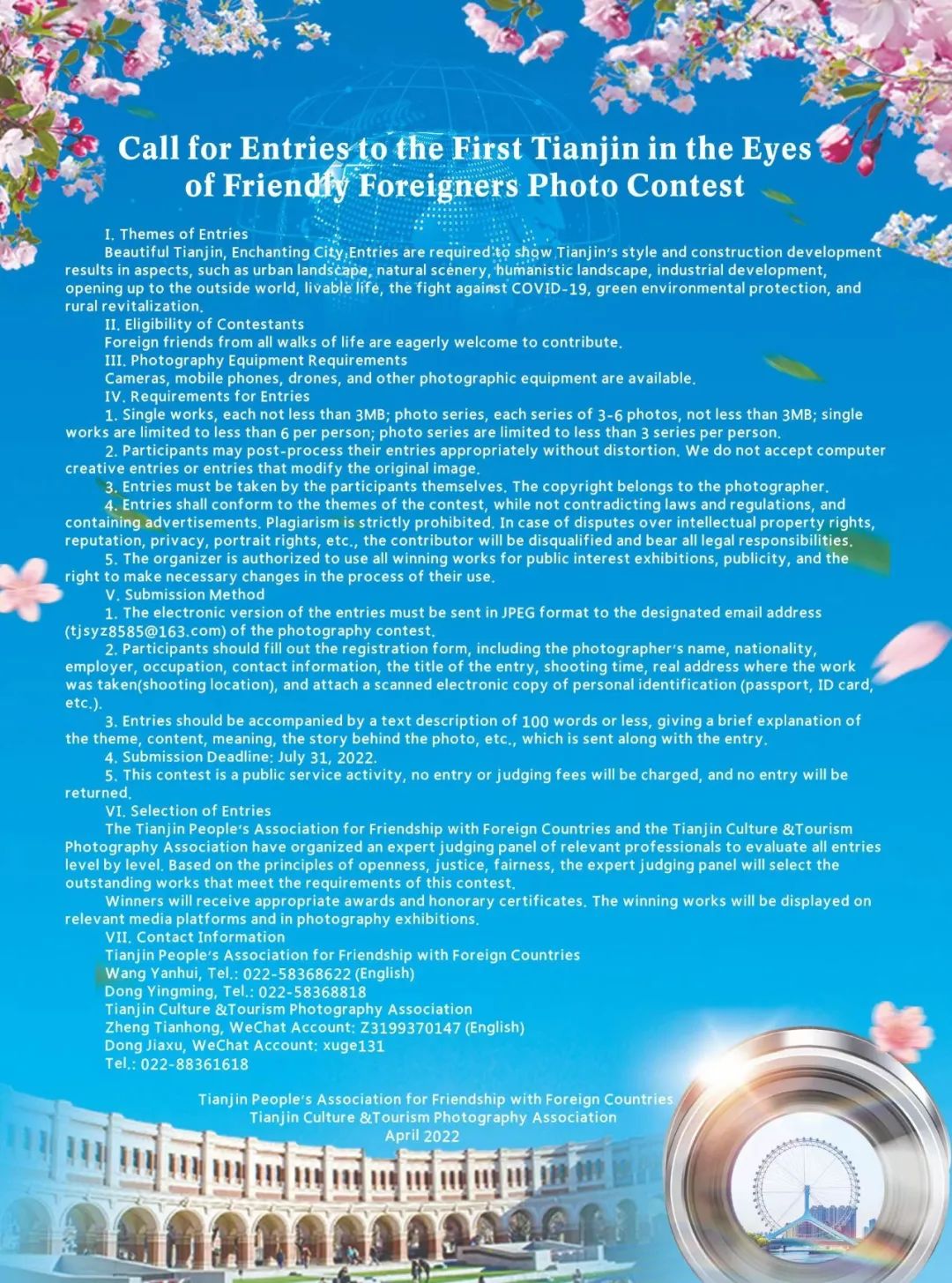 Beautiful Tianjin, Enchanting City. Entries are required to show Tianjin's style and construction development results in aspects, such as urban landscape, natural scenery, humanistic landscape, industrial development, opening up to the outside world, livable life, the fight against COVID-19, green environmental protection, and rural revitalization.
Eligibility of Contestants
Foreign friends from all walks of life are invited to enter the contest.
Cameras, mobile phones, drones, and other photographic equipment are available.
1. Single works, each not less than 3MB; photo series, each series of 3-6 photos, not less than 3MB; single works are limited to less than 6 per person; photo series are limited to less than 3 series per person.
2. Participants may post-process their entries appropriately without distortion. We do not accept computer creative entries or entries that modify the original image.
3. Entries must be taken by the participants themselves. The copyright belongs to the photographer. 
4. Entries shall conform to the themes of the contest, while not contradicting laws and regulations, and containing advertisements. Plagiarism is strictly prohibited. In case of disputes over intellectual property rights, reputation, privacy, portrait rights, etc., the contributor will be disqualified and bear all legal responsibilities.
5. The organizer is authorized to use all winning works for public interest exhibitions, publicity, and the right to make necessary changes in the process of their use. 
1. The electronic version of the entries must be sent in JPEG format to the designated email address (tjsyz8585@163.com) of the photography contest.
2. Participants should fill out the registration form, including the photographer's name, nationality, employer, occupation, contact information, the title of the entry, shooting time, real address where the work was taken(shooting location), and attach a scanned electronic copy of personal identification (passport, ID card, etc.). 
3. Entries should be accompanied by a text description of 100 words or less, giving a brief explanation of the theme, content, meaning, the story behind the photo, etc., which is sent along with the entry. 
4. Submission Deadline: July 31, 2022. 
5. This contest is a public service activity, no entry or judging fees will be charged, and no entry will be returned.
The Tianjin People's Association for Friendship with Foreign Countries and the Tianjin Culture & Tourism Photography Association have organized an expert judging panel of relevant professionals to evaluate all entries level by level. Based on the principles of openness, justice, fairness, the expert judging panel will select the outstanding works that meet the requirements of this contest. 
Winners will receive appropriate awards and honorary certificates. The winning works will be displayed on relevant media platforms and in photography exhibitions. 
Tianjin People's Association for Friendship with Foreign Countries
Wang Yanhui, Tel.: 022-58368622 (English)
Dong Yingming, Tel.: 022-58368818
Tianjin Culture & Tourism Photography Association 
Zheng Tianhong, WeChat Account: Z3199370147 (English)  
Dong Jiaxu, WeChat Account: xuge131
Tel.: 022-88361618
Photographer 

Name



Nationality


Employer


Occupation



Contact 

Information



Title of Entry


Shooting Time



Shooting 

Location




Introduction for 

Entries (100 words max)