Bilingual | 天津市对外友协理事单位巡礼——天津市华夏未来文化艺术基金会
天津市华夏未来文化艺术基金会是由一批热爱少年儿童文化艺术事业的社会各界知名人士发起,经民政部门批准成立,致力于繁荣、发展少年儿童文化艺术事业的公益性社会团体。基金会以"一切为了孩子"为宗旨,自1993年4月成立以来,为扩大对外文化交流,展示中国少年儿童的精神风貌和艺术才华,促进少年儿童身心健康成长起到了积极作用。先后荣获全国文化工作先进集体、全国先进民间组织、全国青少年校外活动示范基地、国家文化产业示范基地、全国先进社会组织、国家人民友谊贡献奖、全国创先争优先进基层党组织、全国五一劳动奖状、全国三八红旗集体等荣誉称号。
二、对外交流合作情况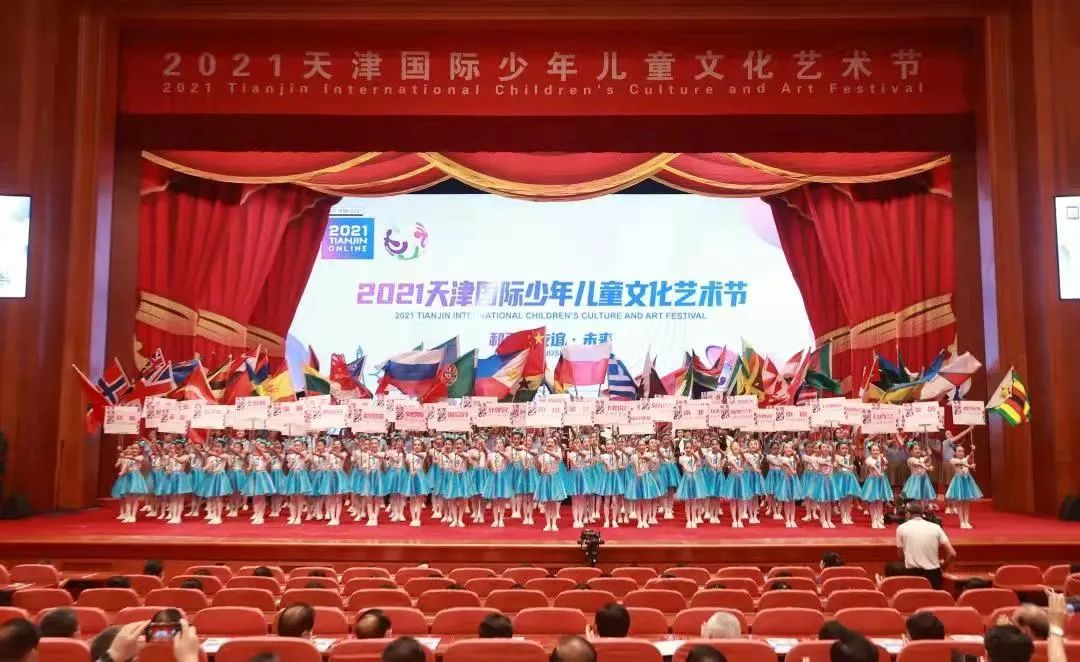 自1995年出访印度尼西亚到2013年梦圆卡塔尔,基金会所属华夏未来少儿艺术团圆满完成了"环球之旅"百国千场的访演任务。20年来,华夏未来的孩子们携380个节目,行程2291725公里,足迹踏遍世界121个国家和地区、410个城镇,受到36个国家元首的亲切接见。20万华人华侨从"华夏未来"看到祖国明天,百万外国观众认识了天津,五大洲万篇媒体报道聚焦"环球之旅"。孩子们的脚印走过30多个SOS儿童村、孤儿院、偏远贫困地区…… "华夏未来"衔着中国天津人民橄榄枝,就像一只和平鸽飞翔于世界民族之林,在不同肤色的人群中飞跃五洲,留下闪亮的"城市名片",被世界友人誉为"和平友谊的天使"。

天津国际少儿艺术节创办于1998年,由全国对外友协和天津市人民政府联合主办,华夏未来文化艺术基金会承办,前身是华夏未来少儿艺术节,以弘扬爱国主义、民族精神为宗旨,向青少年提供艺术展示的平台,促进国内外少儿艺术的交流,迄今为止已经成功举办了10届,邀请了世界五大洲近百个国家和国内三十余个省市自治区的少儿艺术团体参加。历届艺术节以"和平、友谊、未来"为主题,以增进国际交流为宗旨,期间组织大型文艺演出联欢、国际儿童欢乐城活动、世界儿童绘画展览、中外少儿艺术团体节目展演、中外儿童登长城、世界儿童艺术发展论坛等一系列丰富多彩的活动,受到各国儿童的欢迎。
三、理事单位代表简介
赵骞,男,1965年出生,中共党员,博士,研究员,现任天津市华夏未来文化艺术基金会副理事长、华夏未来教育集团董事长、中国宋庆龄基金会理事、中国人民对外友好协会理事、天津公关协会会长。天津市第十二届、第十三届、第十四届政协委员、和平区第十一届、第十二届、第十三届政协委员;河西区第十四届、十五届、十六届、十七届、十八届人大代表。曾获天津红十字会"红十字博爱奖章"、被中国公共关系协会评为首届中国公关十位优秀人物、两度荣获天津市劳动模范称号、被天津市文明委授予"天津市未成年人思想道德建设先进工作者"称号、天津市"五一"劳动奖状、国家人民友谊贡献奖。
Publicity Show of the Council Members of Tianjin People's Association for Friendship with Foreign Countries——Tianjin Cathay Future Culture and Art Foundation
I. About Foundation
Tianjin Cathay Future Culture and Art Foundation is a public welfare social organization. After being approved by the Tianjin Municipal Civil Affairs Bureau, i
t was established by a group of social celebrities who love and aim to develop and pros
per the culture and art cause of teenagers and children. Since its establishment in April 1993, the Foundation has been firmly adhering to its mission of "All for Children" and playing a positive role in broadening external cultural exchanges, demonstrating Chinese teenagers' and children's spirituality and artistic talent, and facilitating the healthy growth in both body and mind of teenagers and children. The Foundation has been granted several honorable titles and awards, including the National Advanced Culture Collective, National Advanced Non-governmental Organization, National Teenager Extracurricular Activity Demonstration Base, National Culture Industry Demonstration Base, National Advanced Social Organization, National People's Friendship Contribution Award, National Basic Party Organization of Pioneering Priority, National May Day Labor Medal, and National March 8 Red Flag Collective.
II. International Exchanges and Cooperation
From the visit to Indonesia in 1995 to the performance in Qatar in 2013, the Foundation's subordinated organization, Children's Art Troupe, has successfully completed its tour tasks of the "World Tour" with thousands of performances in hundreds of countries and regions. In the past 20 years, with 380 programs, the Children's Art Troupe has traveled 2,291,725 kilometers to perform in 410 cities and towns of 121 countries and regions around the world and was kindly received by 36 heads of state in person. Through the performance of the Cathay Future, more than 200,000 overseas Chinese see the bright future of their motherland, over millions of foreign audiences have got familiar with Tianjin, and tens of thousands of media reports from the five continents keep focusing on the Children's Troupe's "World Tour". These children's footprints have covered more than 30 SOS Children's Villages, orphanages, and remote and poverty-stricken areas. With the olive branch endowed by the Tianjin people, "Cathay Future", also honored as the "Angel of Peace and Friendship", is like a peace dove soaring among the nations of the world and across the five continents, building friendships with people of different skin colors and distributing the brilliant calling card of Tianjin. 
The Tianjin International Children's Culture and Art Festival was initiated in 1998, which is formerly known as Cathay Future Children's Art Festival. With the goals of advancing and enriching the sense of patriotism and national spirit, it contrives to provide a platform for teenagers to demonstrate their artistic talent and promote the art exchange for children at home. Since 1998, the Festival has been held 10 sessions sponsored by the Chinese People's Association for Friendship with Foreign Countries (CPAFFC) and Tianjin Municipal People's Government and organized by Cathay Future Culture and Art Foundation. In total, the Festival has invited many children's arts organizations from more than 30 provincial-level administrative regions in China and nearly a hundred countries. Themed by "Peace, Friendship, Future", the previous sessions aimed to facilitate international exchange with a series of colorful activities and events, such as large-scale art performance galas, international children's happy city activities, world children's art exhibitions, Chinese and foreign children's art groups shows, Chinese and foreign children's journey to the Great Wall, and the world forum for art development of children. These activities and events were widely popular among the children of all countries.
III. About Council Member's Representative
Zhao Qian, born in 1965, is a member of the Communist Party of China (CPC), doctorate holder, and researcher. At present, he holds the posts of deputy chair of Tianjin Cathay Future Culture and Art Foundation, president of Cathay Future Education Group, member of the China Soong Ching Ling Foundation and CPAFFC, and president of Tianjin Public Relations Association. He was also a member of the 12th, 13th and 14th Tianjin Municipal Committees of the Chinese People's Political Consultative Conference (CPPCC) and the 11th, 12th and 13th Heping District Committees of the CPPCC, as well as a deputy to the 14th, 15th, 16th, 17th and 18th People's Congresses of Hexi District. Zhao Qian has been granted many honorable titles and awards, such as the Red Cross Medal Winner of the Tianjin Red Cross, China's first Top 10 Advanced Persons in Public Relations of China Public Relations Association, Tianjin Municipal Advanced Worker in Ideological and Moral Construction of Minors by Tianjin Civilization Committee, May Day Labor Medal winner of Tianjin Municipality, and National People's Friendship Contribution Award. In particular, he was honored as a Tianjin Model Worker twice.